I love it when working with massage therapists, as a group, we are appreciated for a job well done!
Sent via text on August 3rd, 2017:
"Ladies i heard you were a hit today. Thanks so much for your hard work. We appreciate you all."

Jose Rosario
SELAH Bodyworks, Owner

This was sent to me via text for an event I did for Corporate Wellness at GMHC on March 29th, 2017:

"The HR just called me and said that the ladies are raving about you and did an amazing job thank you so much!"
(Considering all the mishaps like bad reception and no wi-fi therefore; no music, things worked out rather well!)

Jennifer Cox
Corp Wellness
"Thanks so much for making our Oncology patients feel great day. You all made a difference and everyone was so delighted to have you there.
I am ever so grateful for your contribution.
All the best for a great night,"

Felicia
Englewood Hospital via e-mail on 09/30/2014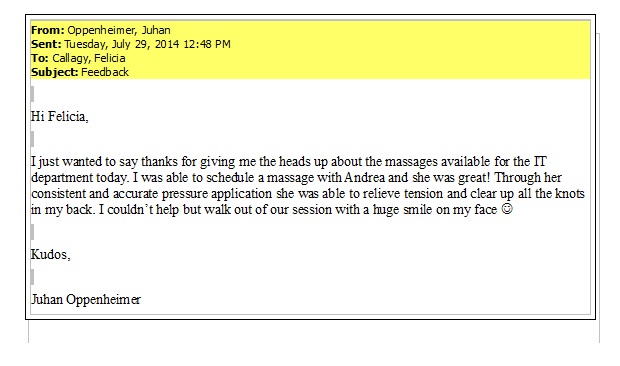 "Great member of our team!"

Regina H., HUMC Mountainside Hospital
Thumbtack review, 7/26/2014

"Andrea has worked for and with me on many occasions doing on site chair massage and reflexology and is very professional. Always arrives on time (early), Always has a pleasant attitude and happy smile. She has come through for me many times when I needed a therapist at the very last minute. She has been working with me for that last several years. She has also brought other therapists into my network. I am very glad to have her as a member of my team to call on when I need. I would highly recommend her services."
Neil A.
Thumbtack review, June 25, 2014
"Andrea works with our staff doing chair massages in our hospital She is very reliable. You can always count on her being there. She is courteous and caring and compassionate about her work. She demonstrates a responsible massage therapist who is willing to make a difference in everyone 's life. Our staff is always commenting on her work and we are so happy to have her with us. She is an asset to our team."

Felicia C., Englewood Hospital
Thumbtack review, 6/11/2014

"She did a fantastic job and was very helpful in explaining what was needed and what products we could use. She was punctual and my mother enjoyed the services provided. Thanks for being willing to travel to the Bronx."
Michelly L., client
Thumbtack review, 6/7/2014
"Andrea is a professional, well trained massage therapist. She did an excellent job with couples massage. Clients were very happy. Thank you Andrea!"
Billy R.
Thumbtack review, 5/14/2014

"I am the Medical Director of Radiation Oncology at HackensackUMC Mountainside, and she volunteers here doing therapeutic massage for my cancer patients. She is a well admired, warm and experienced massage therapist who is amazing at what she does!"

Jose Barba
posted on GoFundMe 5/7/2014

" Thanks so much for the fabulous massage at the MS Hops to Hops ride on Sunday! I felt so much better afterwards! See you at the Avon Walk! Email information coming out in the next few days!"
Darcy Doggett
posted on Facebook 9/16/2013
"Hi Andrea,
You did such a great job working with the staff on 6 Dean that they are requesting you again. Therefore, you will be going to 6 Dean on Tuesday, July 23 from 10-1pm."
Felicia Callagy
Englewood Hospital via e-mail 7/15/2013

"My massage today with Andrea.. was amazing, I feel twenty years younger...
Will recommend to all my friends..I feel great"
Fara Laura Faz
posted on Facebook 4/7/2013