Taking care of me with a Himalayan Salt Therapy Session!

Today, after a grueling week of massages, I finally made my way over to Montauk Salt Cave located at 90 E 10th St in the East Village for a Himalayan Salt Therapy session. Ever heard of halotherapy? You can learn about it here! All that is required of you is to relax and breathe while zoning out to meditation music in a zero gravity chair for forty-five minutes! Will I be back? You betcha!!
April 7, 2019

You never know where chair massage gigs will take you! I had an awesome day providing massages at Sesame Street this past Wednesday on April 5th, 2017! As a courtesy, I got to tour backstage!

It is well worth it to volunteer throughout the year and receive a letter of appreciation, for your dedication and commitment. Thanks to the Director of Volunteer Service at Englewood Hospital--what a great way to start the New Year!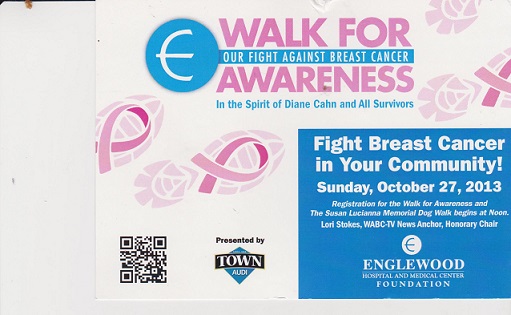 The Walk for Awareness event held on Sunday, October 27, 2013 at Englewood Hospital was a success! Here's what Felicia had to say to all the Massage Therapists who participated at this event:
"I just wanted to thank you all for coming

on Sunday

to work our Breast Cancer Walk. It was a hugh success and part of that is your contribution. You did some great work in helping to make everyone feel special.
Thank agains for your hard work and dedication. It really makes a difference.
All the best and a big hug,"

Felicia
See more testimonials!
Like Metamorphic Me on Facebook!